Red Sox: the Drama
Scott Rolen is demonstrating to Boston pitcher Derek Lowe the belly-landing of the TWA Flight 3119, one of the most dramatic scenes that St Louis International Airport ever witnessed.
On October 28, 1982 the pilot of the TWA Boeing 737 returning from Havana contacted the control tower at the airport to inform them that the undercarriage would not lock down and that he may have to undertake a belly landing. The aircraft maintained a holding pattern to burn off excess fuel as police, fire and ambulance officers attended the scene. After lowering full flap, the aircraft made a successful landing some 15 minutes later. None of the passengers were injured in the incident, except for one pet python transported in the cargo area, who got very nervous during the landing maneuvers and developed multiple stomach ulcers a few weeks later. Subsequent investigation showed that the landing gear got entangled in four bails of typewriter ribbon that the TWA mechanic Ernesto Paserak attempted to smuggle into St. Louis for the World Series celebration.
To the best of our knowledge, the said python recuperated quite well and lived a happy and fulfilling life, eventually strangling to death 15 sheep, 131 chicken, 47 rabbits and 2 portable refrigerators. Ernesto Paserak took the blame for the incident and accepted an inferior position at a Moose Pasture Information Booth. The Boeing's automatic pilot, whose crisp reactions single-handedly averted a potential disaster, served the TWA airlines for two more years, after which it was ceremoniously unplugged, unscrewed and buried underneath an extension cord wreath.
The soundtrack of the whole Memorial Service can be obtained through the Funeral Music section of the Atlantis Record Catalogue. An acclaimed columnist for the Fathers Against Ostentation Daily Newsletter compared its unnecessarily lugubrious tone to the Star Wars theme played on an ocarina that was in a grave car accident, in roughly half the usual tempo, by a dispirited Reggae Wizzard on his way home from a Marital Therapy Session held in an all-you-can-drink bar. The said columnist never quite recuperated from his clumsy comparison and currently edits Oxbow Manuals for John Deere.
It is highly commendable that even in the heat of the World Series battle, Scott Rolen found the time and composure to educate his Boston rivals about the rich history of St Louis aviation. That's the true spirit of St Louis!
In appreciation of his demonstration, the Red Sox vouched to replace all the bases with oversized Pickwick bags so as to facilitate a series of short lectures on the Boston Tea Party. Alex Rodriguez and Johnny Damon have already agreed to wear contemporary wigs underneath their helmets. It is hoped that other baseball big wigs will follow the suit.

© 2004  Jan Rehacek
The Book of Cardinals 2004
Part III.
Inning: 8
Scott Rolen being tagged by Derek Lowe (Game 4).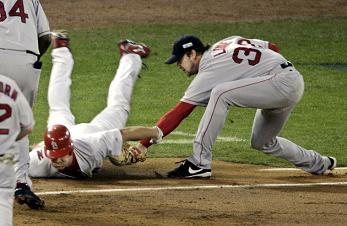 AP Photo/Sue Ogrocki
Part I. Namesakes
1. Cardinal Stritch University
2. Cardinal, Virginia
3. Cardinal Systems
4. Vatican Cardinals
5. Tantoo Cardinal
6. Arizona Cardinals
7. Cardinal Numbers
8. Cardinal Bar
9. Cardinal Fish

Part II. 7th Inning Stretch of Imagination
1. What's In A Name?
2. Nine Amendments For Extreme Motorists
3. Better Butter For Bitter Batter
4. Infield Fly Rule For Dummies
5. How To Wash Red Socks Properly
6. My Kingdom For A Pitcher!
7. East St Louis Vacations Inc
8. Are You A Cardinals Fan?
9. Banbury Cross

Part III. Three Dreams
1. Dodgers: The Robbery
2. Dodgers: The Handshake
3. Dodgers: The Shower
4. Astros: The Flight
5. Astros: The Homer
6. Astros: The Ritual
7. Red Sox: The Comedy
8. Red Sox: The Drama
9. Red Sox: The Heartbreak